Introduction - Orographic rain, droughts, and floods
Among the eight major islands that comprise the Southeastern Hawaiian Islands, five (Hawaii, Maui, Molokai, Oahu, and Kauai) project sufficiently far above the surface of the ocean (minimally two to four thousand feet) that their windward slopes are the sites where moisture carried by the trade winds, typically from the northeast, condenses to form orographic rain in response to the cooler temperatures at these elevations (Figure 1). Thus, the windward sides of islands are usually the wet sides of islands, and they are the locations with the greatest proliferation of perennial rainforest streams that support a unique assemblage of aquatic organisms remarkably well adapted for thriving in what may be one of the world's most rigorous and dynamic ecosystems.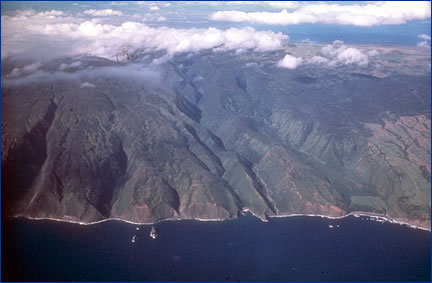 Figure 1. Development of orographic rain on the windward side of the Hawaii Island.
Droughts and floods
The mere rotation of the earth ensures the generation of trade winds that drive the islands' water cycle. However, although recurrent, the trades are by no means continuous. Climatic conditions, such as the approach of weather fronts from leeward, can alter the direction of the trade winds and even arrest their flow for an extended period of time lasting a day to several days or even weeks. Although infrequent, periods of drought on the usually wet sides of islands are not extraordinary. In contrast, lingering heavy rain in the upper part of a watershed as a result of local climatic conditions or the passage of a moderate to strong weather system often produces powerful flash floods (freshets) of a magnitude and frequency not seen in continental fresh waters (Figures 2 & 3). Indigenous stream animals, including fishes, mollusks, and crustaceans, have morphological and behavioral adaptations for maintaining position during slight to moderate flash floods, and they benefit from the periodic flushing of silt, leaf litter, and other debris from the stream. An especially severe flash flood carrying a large debris load is capable of pushing adult animals completely out of a stream (as happened with Hurricane Iniki in 1992) (Fitzsimons & Nishimoto, 1993), but members of these native aquatic species will automatically repopulate the stream as larvae or young postlarvae because of their amphidromous life cycles.
Figure 2. Photographs taken at 10:00 am each day from fixed position camera on the bridge over Hakalau Stream, Hawaii over a period of 4 days. Notice the quick rise and fall of the stream discharge in response to rainfall.
Figure 3. An example of the variation in stream discharge for Kahana Stream, Oahu (data from USGS gage station). Notice the frequent spikes (freshets) in the flow and how quickly the flow returns to a lower discharge.